Need Immediate Service?


TEXT US
Regularly cleaning your chimney is an important part of keeping your home safe for the winter months. That because as you use your fireplace to burn wood for warmth or just for a seasonal atmosphere. A highly flammable tar like substance called creosote began to build upon the inside of your chimney walls. Over time this build up can ignite and burn at over 2000 degree Fahrenheit which can be extremely difficult to distinguish and quickly spread other areas of your home.
Best Chimney Cleaning Services In Austin
Cleaning your chimney is a super challenging task that only professional chimney cleaning services providers can do that. Greenwood air is one of the best chimney cleaning companies in Austin tx. Our experts are highly trained to clean your fireplace inside and outside on the roof. With more than decades of experience, we know how to keep your property safe from toxic gases and fire damage hazards. You can trust our chimney cleaning services. Free feel to get a quote from us.
Complete Chimney Sweep and Inspection.
We use two methods brush and rod bottom-up and brush and rood top down.
Brush and rod bottom up.
Inside you of your first, we sweep your wood stove and fireplace walls and all other areas. Then we measure brush-width according to your chimney line. After that, we use get brush and rod with great pressure and then start cleaning it to remove all carbon and creosote on the walls.
Brush and rod top down. 
Our experts get up top of your roof with their customize equipment. With brush and rod, they clean your roof from up to down and remove all ash and heavy creosote crystals. Also, we repair chimney flues if it's needed.
We have Covered all Your Chimney Cleaning Solutions In Austin.
There are different levels of creosote. The creosote at the beginning stages which is a kind of powdery ash that going to sweep away with a brush and rod system but there is also creosote which is at a serious level glaze type crystals that should be cleaned to prevent heavy fire damage.
Chimney crown repair.
Chimney flue repair.
Wood stock cleaning.
Chimney video inspection after and before chimney work.
Chimney Caps & Animal Guards.
Chimney Liners
Chase Covers
We cover all aspects according to the Chimney Safety Institute of America (CSIA) and the National Chimney Sweep Guild (NCSG). In Austin, Your family and property safety is our first priority.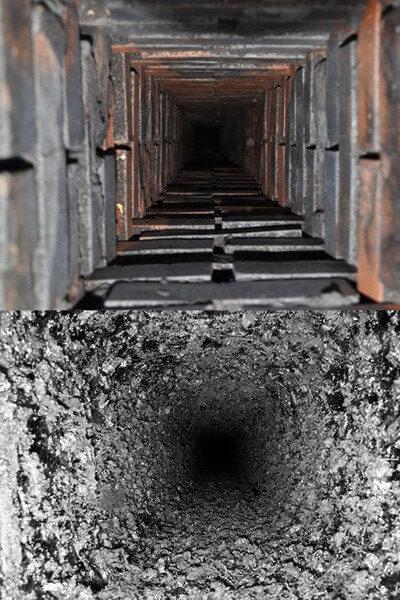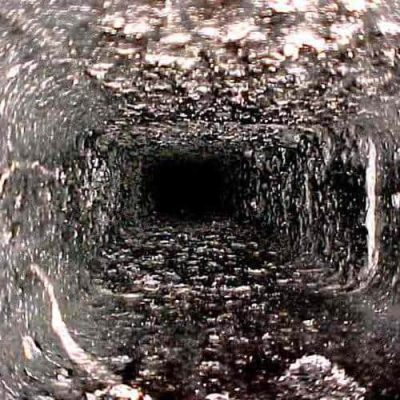 When is the Best time to Clean Your Chimney?
It does not matter what time of the year it is, the best time is to do it actually during spring and summer when it fits your schedule. When you moved into a home and you smell at your fireplaces like the smell of burning or toxic gases or when you find bird odor or found their nests then it is the time to clean your chimney. So if you have time in Austin then it is the best time to call the best Austin chimney cleaning repair and sweeping services company without wasting time for the safety of your family and property.
We are a Best Chimney Cleaning Company In Austin?
As our experts and technicians are licensed and certified by CSIA. To get more knowledge about chimney inspection we attend regular training to get more knowledge. Our first priority is to clean your chimney in that way so that the second time you can call us directly. Our dedicated experts are very loyal to their work and they made us the best chimney cleaning services provider company in Austin. Our Rates us very affordable so you can hire us. Free feel to get a quote from us.

REVIEWS FROM REAL CUSTOMERS
Great services, very good services, very responsive
We were very happy with the air duct cleaning performed . They showed up right on time, were very professional and efficient. I will definitely use them again!
Angelo Dominiqueson
11/08/2022
They were so professional and thorough. They took the time to explain everything in detail, making sure I understood every step of their process before they got started!
The guy who cleaned out my dryer vent was unbelievably nice. Not only did he explain everything to me, but when I asked him if he could do another repair for free because it's the same thing as what came up in conversation before-and then some! He said yes without hesitation or any problems at all with their schedule which made this experience even better than expected!!
Ernesto Shores
10/08/2022
The service I received from this company has been nothing short of amazing. They were very professional, neat, and thorough in their work - taking time to explain the process along with it!
The service I received from the minute my appointment was set up to when they left in pristine condition has been nothing but top notch. The employees are friendly and professional, while still maintaining their affordable prices--I'll be coming back for more!
The service was professional and friendly. The employees were knowledgeable about their products, which made me feel confident in hiring them for this job - they know what is needed! I've already recommended friends to use your company too.
Very professional and all-around nice guy! These guys gained a huge respect for the impressive service they provided me with my air duct cleaning service. Truly a reliable service!
They arrived on time. They thoroughly explained the work to be performed. They were respectful of property. Thanks
They were on time, knowledgeable about jobs, and efficient in doing them. They were also personable and polite.
Greenwood Air Is proud to Provide Dryer Vent Cleaning Services In the Austin!
A list of the zip codes we provide services
78610, 78613, 78617, 78641, 78652, 78653, 78660, 78664, 78681, 78701, 78702, 78703, 78704, 78705, 78712, 78717, 78719, 78721, 78722, 78723, 78724, 78725, 78726, 78727, 78728, 78729, 78730, 78731, 78732, 78733, 78734, 78735, 78736, 78737, 78738, 78739, 78741, 78742, 78744, 78745, 78746, 78747, 78748, 78749, 78750, 78751, 78752, 78753, 78754, 78756, 78757, 78758, 78759
Most frequent questions and answers